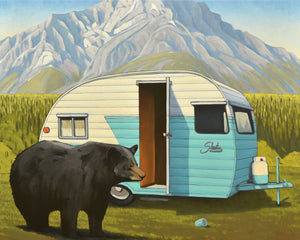 Mitchell Fenton Art
Shasta
Regular price
$100.00
$0.00
Unit price
per
Fine Art Print of an Original Oil Painting by Mitchell Fenton.
Open Edition printed with Archival, Pigment Inks on Hahnemühle Photo Rag Paper. 
Price includes shipping.
Image from The Vintage RV and Trailer Show
 "THE WILD LIFE AWAITS YOU"
  
Ever since I was a kid, I've enjoyed crossing the Prairies and going camping in the Mountains. It's not the Destination, or the Journey that is important, it's the Gear!
I LOVE Vintage Campers! I love seeing what everyone else is travelling in too – on the road and in the campground.
As memorable as those childhood adventures were and my camping trips with my own children (in our vintage VW camper),
it is always that Wildlife encounter that makes the whole thing Truly unforgettable! This show is about celebrating those vintage RIGS.   
I'd like to share My Recipe with you… Scour the internet and select an example of a good-looking Camper.
(The best photos are found when someone is selling one – front, side, ¾ view.) Help yourself to an Image - spruce it up a bit,
then insert into an idyllic landscape! To spice it up, introduce a little Drama to taste! Enjoy.
So now… Just when you thought it was safe to go outside again – remember – DANGER Lurks!
Be safe everyone. Wash your hands frequently.
Please don't feed the BEARS, and best latch the door at night!